By Festus Ahon
ASABA—Against recent media reports, the people of Aladja in Udu Local Government Area, Delta State, have said they were not  responsible for the faulty electricity connection and road blockage of Ogbe-Ijoh in Warri South-West Local Government Area of the state.
Reacting to a media report credited to one Chief Keme Monday of Ogbe-Ijoh community, Mr  Champion Eyakagba, said: "Such a thing never existed in Aladja and its neighbouring communities."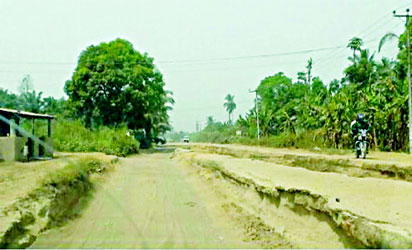 Eyakagba in a letter addressed to Governor Ifeanyi Okowa on behalf of Aladja community, said: "Aladja  is not responsible for any faulty electricity connection and road blockage. The various security patrol vans plying the Aladja to Ogbe-Ijoh can attest to that fact.
"Aladja community is in Udu council while Ogbe-Ijoh is in Warri South-West council. Okotomu is in Udu council.  Ogbe-Ijoh is not in Udu. Ogbe-Ijoh is in Warri LGA., close to Miller Water Side/Nigerian Ports Authority up to Ogbe-Ijoh Market Road as contained in our previous evidences.
"It is a fraudulent claim by the Ijaws to call Okotomu an Ijaw fishing camp/settlement in Aladja as Ogbe-Ijoh with intention to use Aladja land as proposed headquarter of 'Ijaw Republic' and also for crude oil bunkering.
"Their claim was based on speculations and their fraudulent effort for territorial expansion, that is why they call Okotomu, which is an Aladja land as Ogbe-Ijoh. There is no government in Nigeria that recognizes Ogbe-Ijaw in Aladja as headquarter of Warri South-West Local Government Area."
Eyakagba advised the state government not to consider taking over or sharing their land with Okotomu who are settlers on their land since 1896.
The post We didn't block road to Ogbe-Ijoh, says Aladja community appeared first on Vanguard News.
Source: New feed