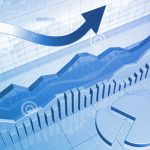 After a topsy-turvy in the first two trading sessions of the week, Nigerian equities broke into a major rally on Wednesday with a gain of N370 billion as investors scrambled for equities of large-cap stocks. Benchmark index at the Nigerian Stock Exchange (NSE) indicated average day-on-day gain of 2.44 per cent, raising average year-to-date return to 13.30 per cent.
Aggregate market value of all quoted equities at the Exchange rose by 2.44 per cent of N370 billion from its opening value of N15.180 trillion to close at N15.550 trillion. The All Share Index (ASI)-the value-based common index that tracks share prices at the Exchange, also rallied by 2.44 per cent to another threshold at 43,330.54 points as against its opening index of 42,299.56 points.
With 31 advancers to 23 decliners, the positive market situation was driven by gains by large-cap stocks as well as widespread buy sentiments across the sectors. All sectoral indices closed positive as investors engaged in last-minute portfolio realignment for the month-end.
The NSE Industrial Goods Index led with above average return of 4.1 per cent. The NSE Consumer Goods Index followed with a gain of 2.4 per cent. The NSE Banking Index appreciated by 0.8 per cent. The NSE Oil & Gas Index rose by 0.2 per cent while the NSE Insurance Index inched up by 0.1 per cent.
"Current trading pattern is reflective of the fact that investors are increasingly taking position in fundamentally sound dividend paying stocks as earnings begin to trickle in, hence we expect market performance to remain largely positive in the short term," Afrinvest Securities stated.
Nestle Nigeria-NSE's highest-priced stock led the advancers with a gain of N42 to close at N1,442. Dangote Cement-the most capitalised quoted company, followed with a gain of N12.80 to close at N269.80. Nigerian Breweries-NSE's third most capitalised stock rallied a gain of N5.80 to close at N135.90. Seplat Petroleum Development Company rose by N2.60 to close at N660.50. Unilever Nigeria added N2.40 to close at N51.20. Lafarge Africa rose by N1.90 to close at N51.90 while Cement Company of Northern Nigeria gathered N1.55 to close at N19.75 per share.
Read also: General Electric set to invest $2bn on Lagos-Kano rail line
Total turnover also improved with the exchange of 571.87 million shares worth N10.80 billion in 5,142 deals. FCMB Group was the most active stock with a turnover of 192.86 million shares worth N483.17 million. Access Bank followed with 49.58 million shares valued at N652.93 million while FBN Holdings placed third with 48.10 million shares worth N551.66 million.
"We expect the current positive sentiment to persist at tomorrow (Thursday)`s trading session as market eagerly awaits impressive 2017 financials," SCM Capital stated.
On the downside, Red Star Express led the decliners with a loss of 30 kobo to close at N6. Union Bank of Nigeria followed with a drop of 15 kobo to close at N6.50. Transnational Corporation of Nigeria lost 6.0 kobo to close at N1.97. Dangote Flour Mills dropped by 5.0 kobo to close at N16.45 while Linkage Assurance dipped by 4.0 kobo to close at 86 kobo per share.
Analysts were almost unanimous on the positive outlook for quoted equities.
"As we anticipate corporate earnings releases, we look to sustained gains in the equities market, amidst still-positive macroeconomic fundamentals," Cordros Capital stated in post-trading note.
Analysts at FSDH Securities noted that market activity and investor sentiments were strengthened on Wednesday, pointing out that "this trend is likely to be sustained in coming sessions as investors continue to hunt for bargains in perceived undervalued stocks".
RipplesNigeria… without borders, without fears
Click here to join the Ripples Nigeria WhatsApp group for latest updates.
The post NSE LIVE! Equities break into major rally with N370bn gain appeared first on Ripples Nigeria.
Source: New feed